7 tech gadgets your dog will LOVE
Technology: unleashed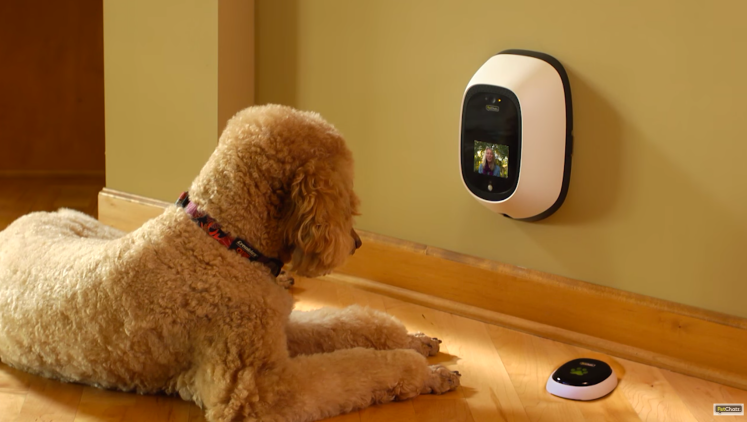 People love to spoil their dogs. Before we rescued a puppy, my family never could've predicted how often we'd come home with a new toy, just for the week of glee our pup would get out of the thing before she tore it apart or lost interest.
But those were the days before smart dog tech.
If connected dog toys existed before my pup grew too old to hear doggie Skype ringing or run far enough to need tracking, you better believe we'd have one connected canine.
Here's all the coolest dog tech you'll want to get your paws on.
Whistle GPS Pet Tracker
Sometimes, dogs run away. That's just a fact. And as anyone who has tried to track down a lost pet can tell you, finding a runaway pooch is no walk in the park. That's where the Whistle comes in. The GPS tracking device is designed to attach to a dog collar, allowing you to keep tabs on your pooch from afar. Whistle gives you the option to set a designated area, like your home or a dog sitter's yard, and sends alerts to your phone if your dog leaves that area. If you receive an alert, you can use the companion app to track your pup's location on a map in real time.
But Whistle isn't just a location tracker. You can also set health goals for your pet and receive notifications if there are any significant changes in their activity or sleep patterns. There's room in the app to record other health-related events, like when you gave Spot his heart worm meds, and you can add other users to your account so that everyone can stay informed.
Whistle may not be the coolest gadget in the game, but it's certainly among the most practical.
Petzi Treat Cam
Leaving a dog home alone can be tough. You miss your pup, your pup misses you, and whether you're on vacation or just at work for the day, the desire to stay connected is real. Thankfully, Petzi Treat Cam makes staying connected easy.You attach the camera to your wall and use the companion app to see and talk to your dog, snap cute photos, and even dispense treats. It's not the same as actually being in the same room as your furry pal, but it might help reduce any separation anxiety.
Plus, who doesn't like to watch puppies through the power of WiFi? I'm pretty sure that's the main reason the Internet was invented.
Mattel Puppy Tweets
The only thing that embodies the spirit of the Internet better than a live streaming puppy cam is a dog with a Twitter account. Mattel's Puppy Tweets toy is designed specifically to get your beloved pooch on Twitter.The device is designed to clip onto your dog's collar and detect any activity or barking. This triggers your Twitter account to post messages from your dog. The tweets vary depending on whether your dog's movement is hyper or more relaxed, and also factors in time of day, days of the week, and holidays.
Is it a silly toy? Absolutely. But that doesn't mean it isn't fun.
Feed and Go Smart Pet Feeder
Like the Petzi Treat cam, Feed and Go lets you watch your pet remotely, thanks to a camera and the power of WiFi. But it's main focus is dispensing actual meals for your dog.You can connect to the device from a smartphone or computer. Its six cup-sized feeding trays can take wet or dry food, treats, and medicine. You can schedule regular or one-time feeds, whether you're home for your pup's mealtime or not. You can even record a voice message to let your dog know it's feeding time.
As with any connected gadget worth its salt, Feed and Go's app is also a tracker, allowing you to monitor your dog's diet over time.
Feed and Go does work over WiFi, but any scheduled feeds are stored in the device itself, so that the pup gets fed even when your router is acting up again.
GoPro Fetch
Look, a tree! Look, a stick! Look, another dog! Look, a weird smell! Dogs always seem to view the world with such joy. With GoPro Fetch, we can finally get a good look at what our canine pals are so excited about.The waterproof, padded GoPro harness is pretty much what you'd expect. It's size adjustable to fit all kinds of dogs, and you can mount your GoPro on either the dog's chest or back. We can't promise your pup will prove a steady cameraman (camerapup?), but who knows? Maybe your dog is a master filmmaker in the making.
Petcube
Petcube isn't just an ordinary connected pet cam. Sure, the wide angle lens can send HD video of your dog's antics to your smartphone, but this gadget can do so much more than that.Two way audio means you can talk to and hear your dog, even when you're not home, but you can also use the safe built-in laser toy to entertain them. You can drag your finger across the app to move the laser around, or set it to autoplay. You can also give access to friends and family members who want to interact with your dog, or just send them videos and photos taken with Petcube.
Our favorite feature? The app allows pet lovers who don't have a PetCube (or a pet!) to watch, talk to, and play with other people's pets, no matter where in the world they're located. Well, there goes our free time.
Pet Chatz
There are a fair number of connected pet cams on the market, and Pet Chatz (like the Petzi treat cam) is one of them. What causes it to stand out is its two-way video, which makes it the doggie equivalent of Skype.You can call your collie through an app that connects your smartphone, tablet, or computer to the gadget, which will then emit a special ringtone to let the dog know you're calling. Motion and sound detectors will send you alerts if anything seems out of the ordinary, whether it's rough play or a thunderstorm. Pet Chat also dispenses treats and can emit a calming scent if you so choose.
You can also purchase the Paw Call accessory, which introduces games into the mix and helps you train your pet to call you by pressing a button.
Article originally posted HERE